REN21: renewables are gaining ground globally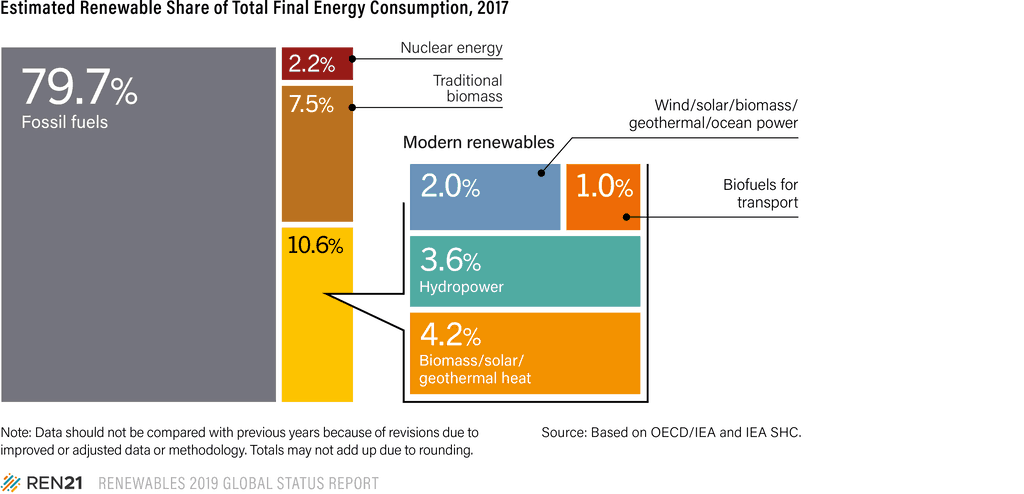 28 Juli 2019
Renewables are on a roll globally, according to the annual Renewables 2019 Global Status Report by REN21.
Last year closed with 2,378 GW of total renewables capacity globally, which translated into 7.6% growth over 2017. The energy transition has mainly concentrated in the power sector, with little progress in heating, cooling, and transport.
The report emphasizes the need to improve policies for ensuring more balanced transitions and synergies between sectors. The number of countries integrating renewables into their energy grid has kept growing, with 169 countries having adopted renewables targets nationally or regionally by the end of 2018.
Progress at subnational level was particularly strong, with more and more cities often taking the lead on climate action. More than 230 cities globally have adopted 100% renewable targets for at least one sector, and 50 of them concluded 2018 with comprehensive renewables targets. However, more detailed and aggregate data on cities are still lacking.
The private sector, meanwhile, witnessed a twofold increase in the corporate sourcing of renewables in 2018. This progress can be associated with dropping prices, innovations in energy storage and new corporate associations. Further development in biofuels and a 63% rise in the adoption of EVs are other noteworthy developments of last year.
At the end of 2017 renewables comprised 18.1% in total final energy consumption. They "are here to stay," the report concludes, with solar and wind finally becoming mainstream options in the power sector. While the pace of transition was behind the goals set out in the Paris accord, 100% renewables by 2050 are beginning to seem a bit more achievable.
Not every area has witnessed progress, though. Fossil fuel-based energy kept on expanding last year, emissions grew by 1.7% and global subsidies to fossil fuels rose by 11%.
The post REN21: renewables are gaining ground globally appeared first on Sustainability Times.