Greening vertically can transform urban landscapes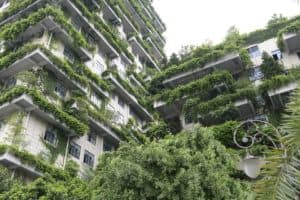 20 September 2019
Urban areas almost always come at the expense of natural environments. Where clusters of houses rise and stand ever thicker on the ground in densely populated urban areas, trees and vegetation invariably disappear with nothing but little parks remaining here and there as beleaguered little vestiges of green.
Their general absence makes any remaining patches of green highly prized in cities where such patches of green are far and few between. The problem, of course, is that space is at a premium in densely populated cities, especially in downtown areas, and so grass, trees and shrubs lose out to stone, steel and glass in competition for it.
But greenery can make a comeback even in the densest urban clusters of skyscrapers and high-rises. That is because even if vegetation does not have much space to grow horizontally in a landscape dominated by asphalt and stone, it can be allowed to re-grow vertically – on the side of buildings, that is. By retrofitting buildings with vegetation (such as in the style of hanging vines), we can make cities a whole lot greener – both literally and figuratively. These green facades ("building envelopes" in industry parlance) can raise residents' quality of living and also drive sustainability at the same time.
"Green building envelopes can help to reduce the urban up-heating (heat island effects), filter fine dust on the streets and reduce noise levels," explains the international architectural design firm Arup, which has conducted a comprehensive study on the benefits of re-greening urban areas.

Importantly, green buildings should be "vernacular," which is to say they should be designed for the climates where they are built. In warmer climes, airier structures with plenty of natural ventilation facilitated by designs could help save residents plenty of energy.
"We now have the opportunity to rethink how cities can improve green infrastructure and, at the same time, help to reduce energy consumption, improve air quality and people's wellbeing," the firm's researchers note.
They have found, for instance, that in tropical and Mediterranean cities in countries like Greece roofs that are exposed to large amounts of sunshine could maintain the same temperature as the ambient air temperature if they are covered in vegetation, even as a normal roof can become boiling hot in the blazing sun with as much as a whopping 50 degrees Celsius increase in its temperature. In other words, you can fry eggs on them, so hot do they become. That means no one in his right mind will want to spend any time on them, which makes these roofs wastes of otherwise valuable space for residents.
Meanwhile, because of the shade green coverings can provide, indoor temperatures can be markedly reduced too in the heat of summer, thereby obviating the need for running air-conditioners at full blast all day long. In addition, green coverings on buildings can filter out pollutants from the air, thereby improving air quality. In fact, according to findings, these pollutants can be reduced by as much as 20% between two buildings covered in plants on the outside. Needless to say, more plants also mean plenty more precious oxygen in cities.
In urban jungles rooftop gardens can make a world of difference. Parks and gardens constructed atop buildings in densely populated cities are widely seen as a solution both to a lack of green spaces in urban areas and food scarcity. Such newly created green spaces can also provide home to wild animals, including butterflies and other arthropods, in addition to birds that prey on them.
One global leader in the greening of buildings is Japan, where the government passed the Act on Improvement of Energy Consumption Performance of Buildings in 2016 with the aim of further reducing already low carbon emission rates around the country. The law requires all new non-residential buildings with an area of at least 2,000 square meters to conform to minimum energy consumption standards. Developers need to abide by those standards in their designs before they can start construction on new non-residential buildings like offices.
And there's more. Other benefits of lush vegetation on the sides of buildings include improved water quality as plants can filter pollutants from rainwater in polluted urban areas. Even better: people's mood, too, will be lifted with all that greenery around them. Their work productivity will likely increase as a result.
The post Greening vertically can transform urban landscapes appeared first on Sustainability Times.