Why air pollution in Poland is the worst in Europe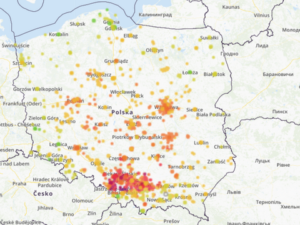 21 Oktober 2019
In Warsaw, Poland, the sky darkened, with the air becoming thick with smog as much of the city was swathed in a baleful miasma. It stayed like that for weeks, forcing residents to try and seek refuge indoors from the bad air.
The setting of a horror movie? Nope. It was life as usual last winter for the Polish city's residents where the rampant burning of coal led to a heavy haze obscuring much of the skyline and making the air smell like burning plastic.
Dozens of other Polish towns and cities, too, have been experiencing similarly noxious air pollution. In fact, each year as many as 44,000 Poles are estimated to die prematurely from ailments related to poor air quality, according to the European Environment Agency.

People who live in Warsaw all year round end up suffering so much from breathing in polluted air outdoors that they might as well be smoking 1,000 cigarettes. Children are especially at risk across the country, yet almost two-thirds of kindergartens around the country are believed to be in heavily polluted areas.
The situation is especially bad in winter. Residents need to wear facemasks outdoors so as to try and protect themselves from the adverse effects of persistent air pollution. "We don't want our children to associate winter with masks on their faces, but with snow and sleds and snowmen," Prime Minister Mateusz Morawiecki told the New York Times last year.
Poland's government launched a €25 billion decade-long scheme last month in an effort to tackle the country's poor air quality. Among the plans 4 million homes and buildings will be renovated over the next 10 years so as to equip them with better insulation and more efficient indoor heating.
The scheme is the largest of its kind in Europe. "It will help to drastically improve air quality in Poland and tackle the problem of smog, especially in areas where smog is the worst problem," says environment minister Henryk Kowalczyk.
Yet skeptics, not least within the European Commission, are concerned that the ambitious project might stall or fail to achieve its desired effects unless efforts are better coordinated and more transparent. "Unfortunately, progress is very slow. Due to fragmented responsibilities and the apparent absence of a truly empowered coordinator, practical solutions for overcoming obstacles are lacking," the Commission's regional head Marc Lemaitre warned Poland's government.

It remains to be seen how the national air clean-up project is going to work out for another reason as well: Thirty-three of Europe's 50 most polluted cities are in the Central European nation, according to the World Health Organization.
In the southern Polish spa town of Rabka-Zdroj, which has served as a treatment hub for children for over a century, "the level of benzo(a)pyrene, a carcinogenic compound, was found to be 28 times normal limits" in 2017, the Economist observed. It went on to quote a local medical expert who calls air pollution "our silent enemy."
Most of that air pollution across Poland has been the result of the country's dependence on coal to power its homes and economy. The country's coal industry remains an important part of the local economy. Poland is the second largest coal-mining country in Europe, after Germany.
Local mining amounted to 144 million metric tons of coal in 2012 and provided 55% of primary local energy consumption as well as 75% of electrical generation. The industry continues to provide plenty of jobs to locals and so weaning Poles off their love of coal will remain a challenge for economic reasons, if nothing else.
It doesn't help, either, that most cars in Poland are ageing vehicles that spew vast amounts of exhaust fumes into the air. The average age of vehicles in the country is 13 years, and replacing all those old rattletraps with modern environmentally friendlier cars will be both costly and time-consuming.
In the short term at least many Poles will have no choice but to endure the effects of bad air quality.
The post Why air pollution in Poland is the worst in Europe appeared first on Sustainability Times.