Squaring the energy circle with SMRs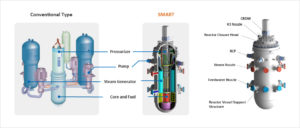 1 November 2019
As the pressure to implement the energy transition – more precisely, electricity transition – rises, renewables are often regarded as the primary solution. Yet, owing to the intermittent character and the cost that this implies, any serious considerations need to inevitably involve new nuclear technologies like small modular reactors (SMRs), both for the low-carbon electricity and electricity supply security they provide. This point was particularly emphasized recently by United States Secretary of Energy Rick Perry, speaking at the first EU-US high-level forum on SMRs in Brussels.
Many countries, both in Europe and elsewhere, could therefore benefit from nuclear power. But the amount of capital needed to manufacture and install nuclear power plants (NPPs) and the need of technical know-how to run them, has traditionally excluded developing countries – or even well-heeled newcomers to the sector – from the nuclear table. SMRs, however, may be the game-changer to potentially open up this energy source to a truly global market.
A closed shop?
Nuclear energy is an attractive option for countries looking to expand their capacity, diversify their options and transition to a more environmentally-minded energy model. Indeed, a raft of African leaders recently called for a greater contingent of their voices to be heard among the International Framework for Nuclear Energy Cooperation (IFNEC), hoping for greater consideration of their needs in nuclear matters.
Upwards of 50 developing countries from all over the globe have signaled an interest in nuclear, including seven African countries who have signed preliminary agreements with Russian state-run nuclear energy company Rosatom, one (Egypt) has penned a final deal and at least eight more are investigating the possibility of doing so.
The conventional argument goes that the price tag associated with building, installing and running a Gen-II/Gen-III nuclear plant makes it unviable for countries with a GDP of lower than $50 billion. The size and scale of these reactors involved mean that countries must have an existing infrastructure capable of handling a minimum of 10 GW to accommodate NPPs in their energy makeup. Due to those limiting factors, nuclear electricity has traditionally been a closed shop for new players looking to gain a foothold.
Technological innovations
But SMRs promise a way out of this dilemma. Smaller in size and able to be manufactured remotely in factories before being shipped to their location, they offer a range of benefits over conventional reactor models. With a capacity of 300 MW or less (compared to anything between 900 to 1600 MW for traditional NPPs), SMRs are better suited to smaller countries with lower populations and reduced power demands. Their more favorable dimensions mean they can be placed both in closer proximity to urban centers, and in remote regions without extensive power grids.
A higher surface-to-volume ratio means that many heat removal safety aspects are intrinsically resolved by design, enhancing the overall safety of the reactor system and thereby reducing the upfront costs compared to traditional NPPs. According to a 2010 study, a typical 100 MW SMR could provide enough energy for 75,000 homes, but would cost $500 million to build, install and commission – a mere fraction of the billions of dollars required in start-up costs of traditional NPPs. It could generate over $1.4 billion in sales annually, create more than 7,200 jobs and result in an annual payroll of over $430 000 dollars, offsetting its costs with significant economic impacts.
While these calculations refer developed countries, the economic benefits would be more pronounced in developing countries – although their financial realities need to be taken into consideration. One way for African countries to get started on nuclear would be Build-Own-Operate-Transfer (BOOT) projects, rather than defaulting to the classical Build-Operate-Transfer (BOT) approach.
Under BOOT contracts, private companies maintain total control of the facility, inject money into the host country's economy, and provide employment and expertise to ensure the project's timely completion. This also ensures proper control of the non-proliferation requirements the nuclear industry must adhere to. In return, the host country can benefit from nuclear power without having to invest its scarce resources or having to wait for full acquisition of the scientific and technical skills required by this highly advanced technology.
The SMRs we are currently talking about are water reactors. But by 2030, SMRs of a different technology (Gen-IV) will appear on the market. Some of these should rather be considered batteries. They will operate for about 30 years on the same fuel, since they won't need to be recharged, leaving no trace of any fissile substance after burnup.
All aboard the SMR bandwagon
Naturally, this economic analysis is still theoretical. It should also consider that licensing and dismantling costs are in practice very similar to those of large reactors. Certainly, SMR development in Africa won't take place until an SMR has been built and installed in developed countries – and this may happen soon. According to the IAEA, SMR research is progressing at a frantic pace. There are currently other SMRs projects in Argentina, China and Russia – which has opened a subsidiary of Rosatom in Saudi Arabia – although these won't be complete until the mid-2020s.
Furthermore, Russia is well advanced in the field with its Akademik Lomonosov, a floating SMR that in September arrived in Pevek in Russia's Artic region. She is another reactor system that provides the distinct possibility to produce decarbonized electricity even in countries that may not be suitable for hosting NPPs on land. China has also started building its first SMR in July this year in a push to boost its nuclear capacity, which is projected to snowball from 42.9 GW last year to 281.8 GW by 2030.
Also notable in this trend, however, is that EU is falling behind the curve in SMR research and development. France is the only EU Member State seriously engaged in this field via a consortium of French companies, including EDF and Naval Group. They presented a new SMR design  last September, at a time when France, already gaining more than 70 percent of its power from nuclear, intends to build six new reactors by 2035.
A crucial compromise
France may be defying an EU-wide trend of nuclear skepticism, though clearly both the large and small players of the nuclear scene are gearing up to throw their weight behind SMRs in the coming years. This is a logical step considering that affordability, scalability, modularity and flexibility open new doors for nuclear's continued viability. When it comes to complex issues like electricity supply, the ability of SMRs to square the circle is an important factor that cannot be foregone.
The post Squaring the energy circle with SMRs appeared first on Sustainability Times.