Ancient Aztec chinampas hold promise for urban agriculture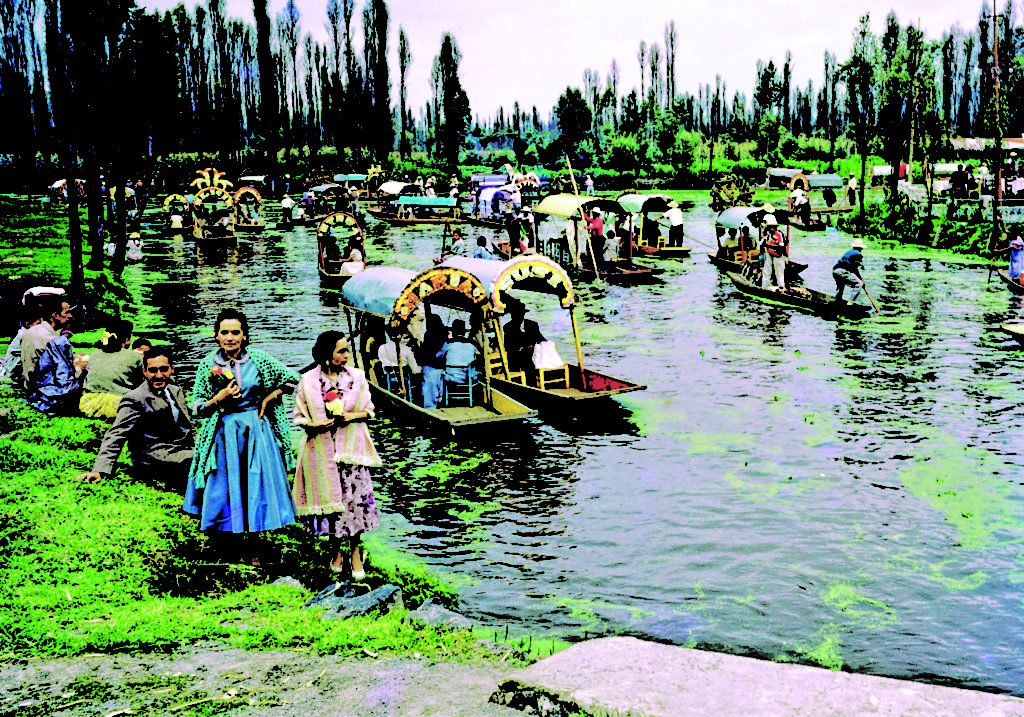 3 November 2019
The Aztecs developed a water-saving agricultural system that is still used in Mexico today, and researcher Roland Ebel in the United States says there's much that modern urban systems can borrow from the ancient techniques practiced in chinampa fields.
The chinampas are essentially floating gardens found on the southern side of Mexico City in the Lake Xochimilco region known for its canals. They're built from the mud that's scraped from area swamps or lakes, usually in a rectangular pattern with the corners marked by posts and bordered by ahuejotes, a local willow seen above that's abundant and fast-growing. The willow "fence" establishes the chinampa while also protecting it from winds and some pests, as well as providing a natural trellis system to support cultivated vining plants.
"The result is the chinamil (a solid fence) that is continuously fortified with floating mud and plant material," writes Ebel, a Montana State University professor whose work was published this week in the journal HortTechnology. When used for growing vegetables, the productivity tends to be high – some crop rotations allow for seven harvests a year – but the irrigation needs remain low as water feeds root systems from the canals or wetlands below.
Chinampas also deliver significant ecosystem benefits as the planet's growers seek to avoid the worst impacts of climate change. The gardens support biodiversity and sequester greenhouse gases, although there is some evidence that the soils and techniques tend toward higher oxygen consumption levels that offset some gains.
Growing flowers on a chinampa delivers some of the highest economic returns, but farmers using them in Mexico are raising beans, tomatoes and edible greens among the 40 or more vegetables identified. The chinampas are often suitable for small animal production too, and create an environment where chickens are commonly at home but sheep, swine and other species also coexist within them.
"In addition, the recreational benefits are tremendous: today, chinampas generate even more money from tourism than by horticultural production," the research adds. The benefits of the technique aren't limited to Mexico City, and similar practices are found in locations as diverse as Chicago's urban canals or the deltas of Bangladesh.
Ebel says those benefits can be adapted to other locales, including the Pantanal region of South America, home to one of the world's largest tropical wetlands spanning parts of Brazil, Bolivia and Paraguay – and currently impacted by a massive wildfire. There's also opportunity for chinampa techniques in the United States and Canada, the hard-hit Great Lakes region of Africa, and parts of Southeast Asia likely to experience significant sea level rise on top of existing swamps and wetlands.
The chinampas can find a home in Europe too, Ebel says. Hamburg in Germany is well-suited for them, as is the Rhone River Delta in France, the Mersey in England, and the Gulf of Finland shared by Finland, Estonia and Russia.
"Today, many cities face very similar challenges as Mexico City did 700 years ago – a rapidly growing population, and less and less arable land available for food production," Ebel says. "Highly intensive production systems with low resource demand are, therefore, a strategic goal of urban agriculture developers. Thus, while most strategists emphasize high-tech solutions such as complex vertical farms, I think it is worthwhile to learn from the achievements of our ancestors."

The post Ancient Aztec chinampas hold promise for urban agriculture appeared first on Sustainability Times.