Indigenizing Love Through Diné Pride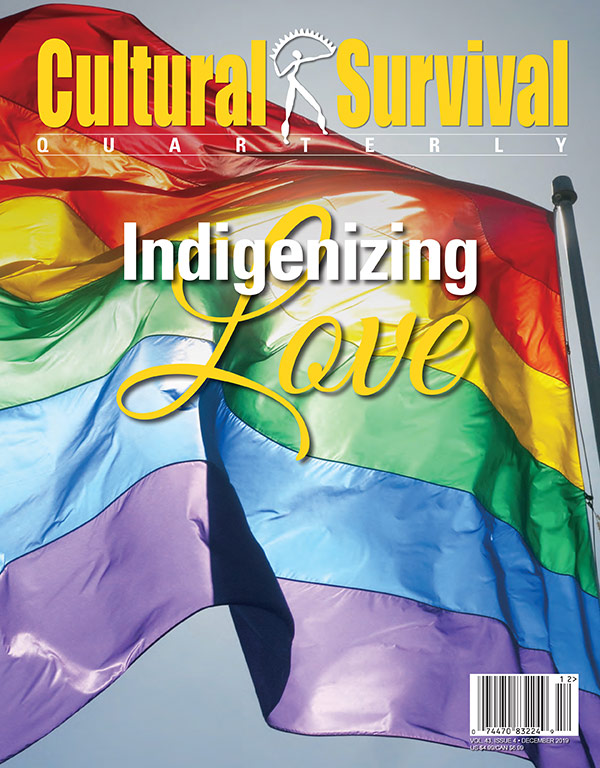 4 Desember 2019
Indigenizing Love Through Diné Pride
intern
Tue, 12/03/2019 – 20:24
CSQ Issue
December 2019
As a queer Diné woman, I find myself being welcomed into the inter-Tribal Two-Spirit community. Additionally, I find myself being called to action to help build understanding and inclusion in our own Indigenous communities, and to help educate and inform allies and partners about the ever growing movement that is Diné Pride.
Diné Pride is a grassroots organization created by Navajo leaders who want to promote traditional teachings of values and kinship to acknowledge and build equity for our Navajo Two-Spirit and LGBTQIA+ relatives. For readers who are new to the word "Two-Spirit," it refers to a gender role believed to be common among most, if not all, Indigenous communities and nations, one that had a proper and accepted place within our societies. Within a traditional setting, Two-Spirit is a Tribal nation-specific understanding of gender, not a sexual orientation. This umbrella term was established in 1990 to organize Native American LGBTQIA+ community members and directly challenge colonial kinship systems imposed on our people. What is important to note is that Two-Spirit is understood in different ways in different and diverse Tribal communities. Today, many Native LGBTQIA+ people also relate to and use the term Two-Spirit to describe their identity. Tribal nations each have their own unique and distinct terms, histories, and understandings of nonbinary and gender nonconforming people.
Our Navajo people are fortunate to still have access to stories and teachings about various genders, including gender roles, rights, and responsibilities, and, if we revisit our traditional values and teachings, we are able to acknowledge and respect Nádleehi and Dilbah relatives in our families. Since time immemorial, the Navajo people have recognized more than five genders (including Nádleehi and Dilbah), and being LGBTQIA+ meant you were sacred. These are the teachings and stories that guide the mission and vision of Diné Pride, which is the largest Indigenous LGBTQIA+ celebration in the country. With a vision to protect Tribal sovereignty, the organization is changing the narrative on how we accept our LGBTQIA+ relatives. Together, we are working towards social, economic, and legal equality for all Native people across Indian Country.
The mission statement of Diné Pride reads, "We will honor and celebrate our LGBTQIA+ relatives & reaffirm the sacredness of their identities. There are countless socio-economic and educational disparities that impact our community. Diné Pride will reintroduce traditional knowledge and teachings that kept our LGBTQIA+ relatives safe & revered—the way our culture recognized at one point in history." It is this mission that I fell in love with when I first heard about the organization in 2018. I am one of the thousands of Navajo citizens living away from the Nation (I live with my Mohawk wife in Buffalo, NY, near her homelands), and I find myself constantly searching for opportunities to stay better connected to home (Ramah Navajo, New Mexico) and the larger Navajo Nation. It was a simple Facebook message on my part to Diné Pride to learn how to get involved and support their work. I was quickly invited to support the development of workshops for the 2019 Diné Pride Symposium, which took place the day before the festival.
Through this process I learned about the many community outreach and engagement efforts being led by Diné Equality, which has been hosting Diné Pride since 2017. Both organizations speak about the need to build equality in the largest sovereign nation in the United States. Much of this work is rooted in addressing the discriminatory Diné Marriage Act, Tribal legislation that defines marriage as being exclusively between a woman and a man. This is a violation of our human and civil rights. What about the June 26, 2015, Supreme Court case Indigenizing Love Through Diné Pride The Blackout Girls from Albuquerque, NM, and Darrell House, U.S. Marine. Radmilla Cody, former Miss Navajo Nation and recording artist of Obergefell v. Hodges that ruled the fundamental right to marry is guaranteed to same-sex couples? This is where Tribal sovereignty comes into play, meaning Tribal nations have the inherent authority to govern, police, and create laws for their own citizens. Furthermore, Tribal nations can make their own decisions on legalizing same-sex marriage for their citizens.
I saw the organization in action when I traveled to the Navajo Nation capital (Window Rock, Arizona) in June to attend the third annual Diné Pride celebration. This year, the theme, "Sacredness Before Stonewall," was a political statement recognizing the existence of our LGBTQIA+ communities long before the modern gay rights movement. With our creation stories, our Navajo people revered our LGBTQIA+ family members and bestowed upon them sacred roles that included being caretakers, medicine healers, matchmakers, clan leaders, and warriors. Before colonization and church missionaries, Indigenous nations honored the Two-Spirit individual and recognized unions between members of the same sex.
Although there are meetings, educational booths, fundraising events, and speakers showcased throughout the year, Diné Pride has become the annual epicenter of community engagement. The festival featured guest speakers, artists, drag queen performers, and declarations of support from elected Tribal officials, community leaders, and family members. Everything was funded locally with no corporate sponsors and completely "Indigenized," so thousands of Navajo youth who participated understood the importance of reclaiming identities, building community, and taking over political spaces. For the first time in history, the Navajo Nation and Pride flags few together while a drag show and rainbow lighting of the Tribal council chambers kicked off the weekend's festivities.
Diné Pride included a day-long symposium full of workshops, panel discussions, and storytelling that honored the work of our transgender and lesbian community. During one of the planning calls for this event, I echoed another board member's comment about the need to raise more visibility of our queer Diné women. The board charged me with coordinating a Diné Queer Women Panel Discussion to highlight different perspectives about lived experiences regarding identity and inclusion. This conversation featured diverse perspectives from Diné women who identify as queer, gay, lesbian, or who are still figuring it out, including women who are also veterans, advocates, public health professionals, artists, and college students. This was such a rich discussion, and there is a clear need for these types of conversations, including youth focused efforts, to continue.

Following this true introduction to everything Diné Pride, I was reenergized and wanted to become more involved. After follow up conversations with Diné Pride's co-founder and new executive director, Alray Nelson, I was invited to join their board to support program development and youth engagement efforts. Diné Pride is excited to focus their 2020 efforts on youth engagement because our Navajo youth are the leaders of today. According to the 2010 Census, Navajo youth under the age of 18 account for 33 percent of our Navajo population. A 2016 survey conducted by the Diné College Policy Institute found that our Navajo LGBTQIA+ youth are eight times more likely to commit suicide than white LGBTQIA+ youth, with over 40 percent of our transgender community facing physical violence or death. Clearly, we need to create space for our young people to join important conversations—our decisions today will impact their generation, as well as generations to come. As a board, we genuinely value the voice of young leaders who are asking for more resources and support when learning about inclusion, our traditional values, and how those fundamental teachings can be incorporated into community development and engagement. When it comes to inclusion efforts and teachings about various gender identities and community roles, it is time to engage our youth and learn together.
Diné Pride will put these words into action in 2020. We will be collaborating with youth leaders to plan and implement the first ever Diné LGBTQIA+ Youth Summit, where we will spend a full day learning about the history and ongoing relevance of diverse genders and gender roles through the context of Navajo teachings and storytelling. The summit will include Diné speakers, storytellers, discussions, and other interactive activities, all co-facilitated by Diné youth. The newly released resource, Indigenizing Love: A Toolkit for Native Youth to Build Inclusion, will be a critical guide for developing this summit. This guide from the Western States Center out of Portland, Oregon was created in partnership with three Native queer and Two-Spirit youth, and I had the honor of serving as the lead author. Our vision was to create a resource that Native youth could pick up and read, and use as a guide to organize and facilitate group discussions to better understand our Two-Spirit and Native LGBTQIA+ relatives through an Indigenous lens. We're basically challenging readers to revisit their traditional values and teachings to understand love and inclusion in their communities, and to acknowledge that homophobia and transphobia is a result of colonization. Although this summit will only be one day, it is our hope that initiating youth-led discussions, with support from, and partnership with, adults, will be a jumpstart to creating action plans that support systemic and sustainable change for future Diné generations.
— Josie Raphaelito MPH (Diné) is a citizen of the Navajo Nation and the Diné Pride Program Director.
Main Image: The Blackout Girls from Albuquerque, NM, and Darrell House, U.S. Marine.
All photos by Pamela J. Peters, Tachiinii Photography.
To learn more about Diné Pride, visit www.navajonationpride.com
Main Image