Nuclear medicine can help save lives in South Asia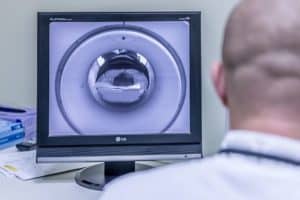 10 April 2020
India, the world's second most populous country, is fast turning into an economic powerhouse where millions of people are lifted out of poverty each year. Yet much of this vast and diverse country is still beset by grave problems from chronic air and water pollution to loss of biodiversity, which take a toll not only on the environment but on people's health as well.
In order for India to transition into a developed nation, the extent and quality of health care provision will need to improve. Encouragingly, heath care provision is improving across much of India while the increasing rates of cancer, diabetes and cardiac diseases are going in lockstep with growing public awareness about the importance of quality healthcare.
As part of that trend, India is embracing the medical applications of nuclear medicine, which has shown vast potentials in treating cancers and diagnosing thyroid-, kidney- and heart-related diseases.
"At present there are close to 300 active Nuclear Medicine Departments providing both SPECT/PET imaging and radionuclide therapy services," says Prof. Baljinder Singh, president of India's Society of Nuclear Medicine, which was founded in 1967. "Over the last 5 years, there has been very rapid growth in PET/CT installations and many big institutes now have their own in-house cyclotrons."
India has been producing large volumes of radioisotopes for medicinal use since the 1960's, following the commissioning in 1956 of the country's first and oldest nuclear research reactor called Apsara. The research reactor was recently recommissioned after it was shut down in 2009 after a major upgrade. Apsara is now fueled with dispersion fuel plates made of low-enriched uranium for a maximum output of 2 MWt.
"By virtue of higher neutron flux, this reactor will increase indigenous production of radioisotopes for medical application by about 50% and would also be extensively used for research in nuclear physics, material science and radiation shielding," the Bhabha Atomic Research Centre noted.
"This development has re-emphasised the capability of Indian scientists and engineers to build complex facilities for health care, science education and research," the center adds.
In all, the South Asian nation boasts five research reactors. A decade ago just over 150 hospitals in India had nuclear medicine departments. As of July 2018 there were nearly twice as many at 293 with 14% of them run by the government and the remaining 86% owned privately.
"Many centers are now using indigenously developed 177Lu-labelled tracers for the treatment of metastatic NETs, prostate cancer and for palliative treatment of skeletal metastases in addition to the routine low and high dose radio-iodine therapies for benign and cancer thyroid disorders," Prof. Singh says. The large-scale adoption of cutting-edge nuclear technologies in medicine, he adds, "will pave the way for developing CXCR4-based theranostics in solid tumors and haematological malignancies."
India is also hard at work on boosting the accessibility to nuclear medicine across the nation by training a new generation of technicians and medical experts. Currently, there are 18 medical institutions and university-affiliated hospitals that offer nuclear medicine technology courses at bachelor's, master's and postgraduate levels.
Nor is India alone in its region when it comes to embracing the benefits of nuclear medicine. Neighboring Bangladesh has had a Triga 3 MW research reactor in operation since 1986. The National Institute for Nuclear Medicine and Allied Sciences in Dhaka is providing nuclear medicine services to locals suffering from a variety of ailments, as is a number of other institutions.
Yet challenges remain. The nations of South Asia will need to design and develop more efficacious radiopharmaceuticals to offer effective patient management options in cardiology, oncology, neurology and related fields. That can't happen without addressing regulatory process issues in the launch of new radiopharmaceuticals for clinical trials and subsequent regular use.
At the moment, however, overly strident regulatory policies are hindering the growth of the market growth in this area. Regulatory requirements pose a hurdle to transnational research and clinical investigations. For example, in India all approvals for nuclear medicine products have to be provided by the Atomic Energy Regulatory Board, including diagnostic radiopharmaceuticals and radio therapeutics. The red tape is often considerable, which means that plenty of precious time is lost before radically new medicines and therapies can be made available to critically ill patients who have little time to waste.
At the same time, the availability of nuclear medicines leaves a lot to be desired. "At 0.12 PET machine per million, we continue to lag behind the US, which has 4 PET scanners per million," Prof. Singh says. "Even just to achieve the reasonable target of 1.0 PET machine per million in India we will need 1,000 PET scanners over the next 10 years," the expert goes on. "We'll also need trained medical and technical manpower to meet the growing need of this specialty field. The anticipated expansion and growth, however, is challenging both in terms of economics and manpower."
Boosting locally based radioisotopes production, expanding supply chains, and strengthening international collaboration with professional bodies such as nuclear medicine societies and international institutions — all these could help countries like India and Bangladesh to improve the quality and provision of nuclear medicine.
"We have to ensure that India gets to the forefront of the clinical and research aspects of theranostics," Prof Singh emphasizes. "It requires an intricate collaboration between nuclear medicine physicians and radiochemists. Presently, one of the main reasons for the tardy pace of the alpha and beta radionuclide therapy program is the exorbitant costs of importing it from EU nations."
Reducing costs of nuclear medicine for patents in India will also be key, Prof. Singh says. The country, he argues, could see "a quantum leap" in providing nuclear medicine services, both in diagnosis and therapy. For that to happen, however, the costs of such diagnostic and therapeutic tools must be made more affordable so that a larger proportion of patients can gain access to them.
The post Nuclear medicine can help save lives in South Asia appeared first on Sustainability Times.