Decarbonizing the global food system is a big step towards mitigating climate change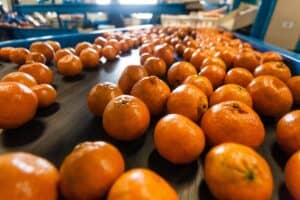 20 November 2020
A new study by scientists from the University of Minnesota and the University of Oxford has sounded the alarm by showing that if the global food production system stays on its current growth path, it will produce nearly 1.4 trillion metric tons of greenhouse gases by the year 2100 – making it one of the biggest CO2 emitters driving climate change.
The focus on food production is an important one. After all, agriculture alone accounts for a third of global emissions, and its impacts could increase further in coming decades. It's no coincidence that Michael Clark, lead author of the new study explains, "Our research emphasizes the importance of reducing emissions from the global food system."
Indeed, the use of fertilizers, methane gas released from livestock like cattle and massive food waste all contribute to the vast carbon footprint of food production. Since land is both a source and a sink of CO2, land-clearing for new agricultural terrain in tandem with deforestation drives harmful emissions, equating to approximately 26% of the global total. This  threatens the targets set out by the Paris Agreement, which seeks to limit global temperature rises to 1.5°C by the middle of this century and 2°C by the end of it.
Clark's findings are a sobering assessment, particularly because so much focus has been placed on phasing out fossil fuels as the key to reducing global warming – a task that has proven exceedingly difficult, not least because of the way they advanced human civilisation, but also due to their relative convenience and energy density that remains unrivalled compared to most renewables. At the same time, the United States' decision to withdraw from the Paris Climate Accord earlier this month has complicated matters: it's now one of the world's largest GHG emitters not subject to climate change restrictions.
Even so, Washington's decision has an important side effect: it's shifting more of the responsibilities to fight climate change from nation states to global companies. With governments the world over proving unreliable partners in the fight, the private sector could now become the leader in climate change mitigation at a time when consumers are ever more assertive in demanding sustainable approaches and products.
Complicating global efforts at meaningful decarbonization has been the decision of the United States to withdraw from the Paris climate accord, which means that as matters stand one of the world's largest greenhouse gas emitters will not subject itself to global climate change mitigation measures.
In light of the study's findings, it's encouraging that this shift is also taking place in the food industry, where several industry giants have launched initiatives to reduce their carbon footprints and minimise environmental impacts. For example, French food company Danone introduced  a "carbon adjusted" earnings per share metric in late October.  Claimed to be a world's first, the measure seeks to calibrate the financial costs of carbon emissions on its entire value chain for a better insight into the company's overall environmental impacts.
The French food and beverage giant's move comes as it hopes to transition to a "climate-powered business model", according to which more of its products will be B Corp certified and local products will be emphasized. As such, Danone is on course to decrease carbon emissions significantly in the coming years, demonstrated by achieving carbon neutrality at one of its baby formula production sites in Ireland – another industry first.
While Danone may be spearheading these developments, other food companies are pursuing initiatives of their own as well. PepsiCo is also in the process of transitioning to a more sustainable business model, a reflection of the realization that food groups need to step up to the plate and act responsibly.
American food company Kraft Heinz, meanwhile, set its own emission reduction target back in 2017, aiming to cut greenhouse gas emissions, energy and water use, and waste levels by 15% by the end of this year. Although the company has admitted it is unlikely to meet any of those targets this year – owing to pandemic-induced supply chain issues – it has announced even more ambitious climate goals by 2025 at the latest.
The push towards sustainability is a foregone conclusion for companies, considering the wealth of research showing that consumers are increasingly willing to pay extra for more sustainable products. In other words, firms that adapt to changing consumer behaviour and demands will be able to capitalise, whereas those who fail to read the signs of the times may find themselves under duress. Indeed, consumer action speaks for itself, and greener food industry is a major steppingstone towards a sustainable, environmentally conscious future.
The post Decarbonizing the global food system is a big step towards mitigating climate change appeared first on Sustainability Times.