Record-Setting New York Bight Auction and Newly-Announced Oregon Lease Areas Portend Rapid Growth in U.S. Offshore Wind Industry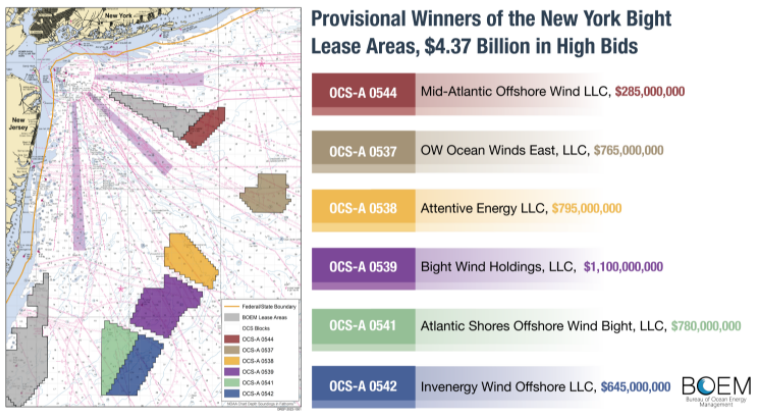 17 Maret 2022
Offshore wind is in high demand, as evidenced by the US$4.37 billion in winning bids generated in the recent federal government auction of lease blocks in the New York Bight. On a per-acre basis, the provisional winners were willing to pay amounts several multiples higher than the winners of previous auctions.
Presently, there are 24 lease areas committed to offshore wind development along the U.S. East Coast. And the rest of the country is catching up. The Bureau of Ocean Energy Management (BOEM) recently identified three new call areas off the coast of Oregon that could support up to 17 gigawatts of offshore wind capacity. Only a month earlier, BOEM identified draft call areas for the Central Atlantic—and the Gulf of Maine could be next.
Buoyed by the prices received in the New York Bight auction, BOEM plans to conduct six more auctions over the next four years. BOEM has recently begun the lease auction process for Carolina Long Bay, and has proposed a novel auction format that is designed to enhance local investments in the workforce and supply chain development. After that, BOEM will advance lease efforts in existing call areas off the California coast and the Gulf of Mexico.
Summary of the New York Bight Auction and Results
The New York Bight auction was remarkable not only for its final bid amounts, but also the fierce competition between a large and steadfast field of bidders. Fourteen of the 25 eligible bidders participated in the three-day auction, each vying for one of six lease areas off the coasts of New York and New Jersey totaling 488,000 acres.
The auction commenced on the morning of 23 February 2022, and proceeded through 21 rounds of bids on that first day. By the end of the first day, the highest bid had achieved a record high US$410 million, and the bids for all six lease areas amounted to US$1.535 billion, with only one bidder dropping out of the auction. For perspective, BOEM's 2018 auction for three lease areas off the coast of Massachusetts raised a total of US$405.1 million for 381,569 acres, itself a record amount at the time.
The second day of bidding drove the bid amount for the largest lease area up to US$900 million. After another 24 rounds on the second day, the combined bid amounts totaled US$3.35 billion. Only one more bidder had dropped out, and 12 bidders remained.
At the close of the third day, the final bids totaled US$4.357 billion. The size of the bidding field and the persistence of motivated bidders who pushed bid amounts higher may be a harbinger for future auctions. The New York Bight auction demonstrates powerful confidence in the burgeoning offshore wind industry along the East Coast. The provisional winners of the auction are as follows:
Bight Wind Holdings, LLC – Lease Area OCS-A 0539 (125,964 acres) – US$1,100 million
Attentive Energy LLC – Lease Area OCS-A 0538 (84,332 acres) – US$795 million
Atlantic Shores Offshore Wind Bight, LLC – Lease Area OCS-A 0541 (79,351 acres) – US$780 million
OW Ocean Winds East, LLC – Lease Area OCS-A 0537 (71,522 acres) – US$765 million
Invenergy Wind Offshore LLC – Lease Area OCS-A 0542 (83,976 acres) – US$645 million
Mid-Atlantic Offshore Wind LLC – Lease Area OCS-A 0544 (43,056 acres) – US$285 million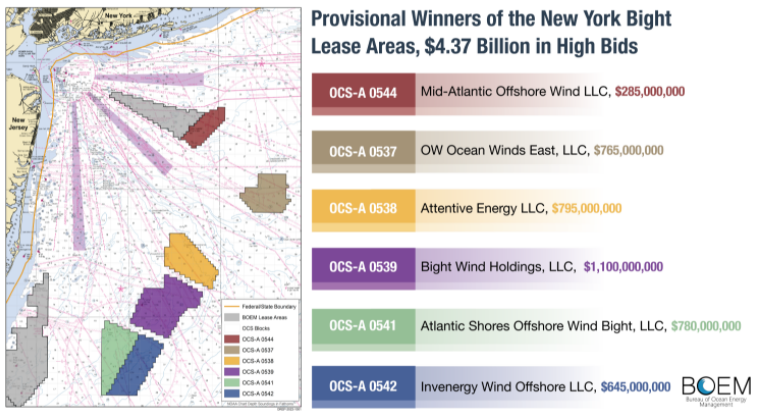 Several of the winning bidders are joint ventures between larger energy companies, new and old. Bight Wind Holdings, LLC is a joint venture between RWE Renewables and National Grid Ventures. At the time of the auction, Attentive Energy LLC was a joint venture between TotalEnergies Renewables USA, LLC (TotalEnergies) and EnBW North America. After the auction concluded, however, TotalEnergies purchased all of EnBW North America's equity and assets. Atlantic Shores Offshore Wind Bight, LLC is a subsidiary of Atlantic Shores Offshore Wind LLC, a joint venture between Shell New Energies US LLC and EDF Renewables North America. OW Ocean Winds East, LLC is a joint venture between EDP Renewables and ENGIE. Invenergy Wind Offshore LLC is a joint venture between Invenergy, LLC and energyRe, LLC. Mid-Atlantic Offshore Wind LLC is owned by Copenhagen Infrastructure Partners.
The auction results are now subject to a 30-day review by the U.S. Attorney General and the Federal Trade Commission for anti-competitive conduct. Once the federal agencies complete their review, the winning bidders will execute lease agreements, provide the requisite financial assurance, and pay the remaining bid amount in excess of bid deposits. Should any bidder forfeit its lease rights either voluntarily or due to non-compliance, BOEM may offer the lease to a different bidder who did not have a winning bid.
Upcoming BOEM Auctions and the Multi-Factor Format Proposed for the Carolina Long Bay Auction
BOEM plans to conduct another six auctions between 2022 and 2025. The next opportunity for bidders will be on the East Coast, before BOEM looks westward for its next auction. On 1 November 2021, BOEM issued a proposed notice of sale for a single lease area in the Carolina Long Bay. BOEM then plans to commence the auction process for designated wind energy areas off the coast of Northern and Central California, and later, the Gulf of Mexico: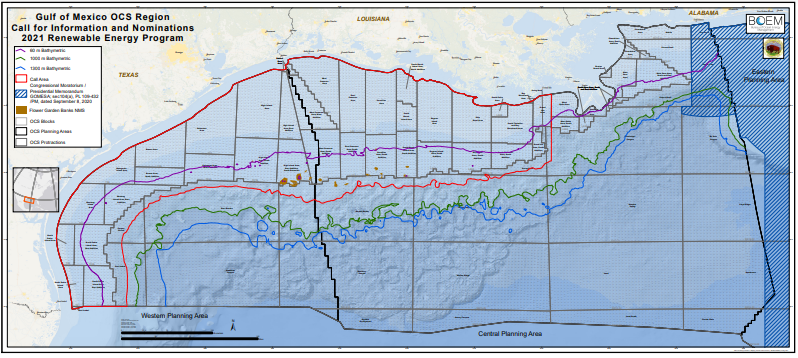 The Carolina Long Bay lease area includes 127,865 acres off the North Carolina coast, within the Wilmington East Call Area. BOEM is considering whether to split the area into three separate lease areas, however.
The Carolina Long Bay lease area auction may use an innovative auction format that BOEM has termed a "multiple-factor" format, which would permit bidders to submit combined bids that include both cash and credit amounts. The credit amounts would represent financial commitments toward local programs for workforce training and supply chain development. BOEM has further encouraged these commitments to go toward opportunities for underserved communities and disadvantaged business enterprises, fully consistent with the Biden administration's Justice40 Initiative.
Bids with a credit component may provide distinct advantages over cash-only bids. For one, bid amounts including credits are eligible for a discount. As an example, BOEM's proposed sale notice states that a bid with a US$6.25 million credit would only be required to make a US$5 million commitment (i.e., 80% of the credit amount). Developers who include these credits as part of their bid may defer payment until they submit the first facility design report, giving the developer sufficient time to identify programs and recipients for the funding before making payment on the credit portion of the bid.
Providing bidders with the credit mechanism could drive bids to surpass the New York Bight auction. BOEM's proposed notice of sale, however, caps the amount of a bid that can be allocated to the credit to only 20% of the total bid. Another factor to consider is whether the auction of only a single, smaller lease area will draw the same level of competition as the six lease areas auctioned in the New York Bight.
Public comments on the proposed notice of sale were due on 3 January 2022. Interested bidders were also required to submit materials demonstrating their qualifications on that same date. Once BOEM has considered the public comments, it will issue a final notice of sale that establishes the final auction format, the list of qualified bidders, and the date of the auction, which is likely to occur later this year.
California Auction
BOEM has also identified two wind energy areas off California that are currently undergoing environmental review. The Morro Bay Wind Energy Area comprises 240,898 acres located off central California, northwest of Morro Bay. Further north, the Humboldt Wind Energy Area is 132,369 acres off Humboldt Bay. The wind energy areas are comprised of portions of call areas that BOEM first identified on 19 October 2018 and expanded on 29 July 2021. According to BOEM, these two wind energy areas could generate up to 4.6 gigawatts of energy, however, these areas may be further refined as part of BOEM's process of identifying final lease areas.
BOEM released a Draft Environmental Assessment for the Humboldt Wind Energy Area, and the public comment period closed on 10 February 2022. Once BOEM completes its environmental review, it will designate proposed lease areas for auction. BOEM has not yet completed its draft environmental assessment for the Morro Bay Wind Energy Area, but plans to release one very soon. Although the Humboldt Wind Energy Area is further along in the process than Morro Bay, BOEM intends to include both wind energy areas as part of a single auction that will occur in fall of 2022. Notably, the California Energy Commission recently awarded the Port of Humboldt Bay US$10.5 million in grant funding to spur improvements to accommodate offshore wind industrial development.
New Oregon Call Areas
On 24 February 2022, BOEM identified three new call areas off the southern coast of Oregon: (1) the Coos Bay Call Area, (2) the Bandon Call Area, and (3) the Brookings Call Area.
The identification of the Oregon call areas greatly expands BOEM's study of potential sites for offshore wind along the West Coast, adding an area that is 1,395,840 acres and could support development of an estimated 17 gigawatts of offshore wind generation. For its first auction, BOEM is targeting near-term development of 3 gigawatts. Like California, the Pacific Ocean's deeper waters in the Oregon call areas reach depths of 1,300 meters and necessitate floating offshore wind installations, as compared to the monopile configurations that are planned for current projects in the shallower Atlantic Ocean waters.
The Oregon call areas closely followed BOEM's identification of draft call areas in the Central Atlantic on 26 January 2022. Those draft call areas were discussed at a Central Atlantic Intergovernmental Renewable Energy Task Force meeting that took place on 16 February 2022, and are on a similar timetable to the Oregon call areas.
Next, BOEM will issue formal calls requesting public comments regarding the suitability of the call areas for offshore wind and to gauge interest from developers. After that it will identify more specific wind energy areas that will be subject to environmental review before commencing the lease auction process. As of now, BOEM anticipates lease auctions for Oregon and the Central Atlantic to occur in 2023.
Conclusion
The New York Bight Auction results confirm that there is confidence in the rapidly maturing East Coast offshore wind market, including confidence in the necessary infrastructure and supply chain to develop projects. With additional auctions pending, there will be an opportunity soon to confirm whether high auction prices are a trend, and moreover, to test whether this offshore wind enthusiasm extends to other regions of the United States. Industry participants should continue to monitor as BOEM announces new call areas, and as existing call areas progress through environmental review to lease auction. If the New York Bight auction is any indication, there will continue to be significant interest in offshore wind power in the United States.