"An Israeli Senior Minister Asked Me To Commit Hate Crimes"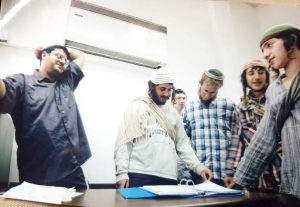 22 Februari 2023
By Karlos Zurutuza
ROME, Feb 21 2023 (IPS)
Harassing Palestinians, vandalizing their cars and houses, occupying their lands: Gilad Sade, a 36-year-old Israeli, recalls his day-to-day life when he belonged to a Jewish supremacist organization.
"He boasted that he kept them away from the streets and drugs but actually paid them cash to commit these kinds of crimes. The boys sought the approval of the group by spitting on the Palestinians, pushing them to the ground, pepper-spraying them," he recalls
"I was first jailed at thirteen and would go back to prison many times. During those years, Itamar Ben Gvir and I were thick and thin," Sade tells IPS from Rome, Italy.
Itamar Ben Gvir is Israel´s newly appointed Minister of National Security.
His party, Jewish Power, won six seats in the November 2022 legislative elections. Today, it forms a far-right government considered the most extremist in the country's history, led by Benjamin Netanyahu.
Raised in a family of secular Jewish immigrants from Iraq, Ben Gvir, 47, joined the Kach movement —an ultra-Orthodox organization designated as a terrorist group in the nineties by Israel, the US, the European Union, Canada and Japan— as a teenager. In 1995 he became famous for threatening then-Prime Minister Isaac Rabin three weeks before he was assassinated.
"When he first moved out of his family house, he hung a photo of Barouch Goldstein in his new residence in Kiryat Arba,110 kilometres southeast of Tel Aviv," recalls Sade. Also known as the "Butcher of Hebron," Goldstein was a medical doctor from New York who murdered 29 Palestinians with an assault rifle in 1994.
Sade recalls that, as a child, he was often in the care of Ben Gvir. He was in primary school when he received his first assignment.
"We used to distribute leaflets calling for the expulsion of the Arabs from Israel or the demolition of the al Aqsa Mosque. Ben Gvir asked me to hide them under my shirt. As a child, the police would not search me."
At the age of 14, Ben Gvir asked him to bring a ski mask and handed him a wire cutter to break into the United Nations compound in Jerusalem to vandalize UN cars and spray anti-UN graffiti on walls.
"He would never take risks. I could easily get in trouble or even get killed while he waited in his car listening to Hasidic music," says Sade
Ben Gvir, he explains, recruited young people from broken families. "He boasted that he kept them away from the streets and drugs but actually paid them cash to commit these kinds of crimes. The boys sought the approval of the group by spitting on the Palestinians, pushing them to the ground, pepper-spraying them," he recalls.
Contrary to what one might think, Sade says that there was no room for improvisation. "They trained us to deal with all sorts of situations: from occupying the home of a Palestinian family to handle a police interrogation," explains Sade.
In an interview with Israel's Channel 7, Ben Gvir said he had been arrested "hundreds of times" — the first time at 14 —and bragged about having been accused "in only just eight occasions." At 18, his criminal record exempted him from military service.
Before launching his political career, he was convicted for "incitement to racism and support of terror," by calling for the expulsion of Arabs from Israel.
"Today he has moderated his speech, at least in public, in order to reach parliament. But everyone knows that he is still the same racist influencer he´s always been," says Sade.
Sade quit the extremist movement at 21.
"It was a very long and painful process to be able to overcome, among other things, the hatred towards myself for the damage inflicted," he admits. He also regrets that many of his former colleagues "did not manage to break the walls of that mental prison."
Sade would become an adventure travel guide, and his fondness for photography would open the doors to journalism. As a freelance reporter working for both Israeli and international media, he works in places like Nagorno Karabakh and Kosovo. However, part of his job has focused on exposing those who, he insists, ruined his life and the lives of hundreds of young people.
But the price to pay was exile. The frequent target of threats, he cannot return to Israel. Especially today, when those who were his mentors are in power.
Itamar ben Gvir 's spokesman declined to answer to questions forwarded by IPS. He told this news agency that any accusation of hate crimes against the minister is "not serious" and "just jihadist propaganda."
Domination
Last November, weeks before the new government was formed, Palestinian Authority officials warned that Itamar Ben Gvir´s appointment could have a "potentially catastrophic impact."
Their concern appears to have been well-founded. In a report released by Amnesty International on February 1, the London-based NGO denounced the death of 35 Palestinians at the hands of Israeli forces during January alone.
"The killings help sustain the Israeli apartheid regime and constitute crimes against humanity as well as other measures such as administrative detention or forced displacement," the Amnesty report said.
On January 27, seven people were killed in a synagogue and a dozen seriously injured in two attacks on Jewish settlements in East Jerusalem. Two weeks later, two Israelis were killed, including one child, in an intentional car-ram attack in Jerusalem.
The recent violence under the new administration continues a worrying trend. In its World Report 2023, Human Right Watch points to "a policy to maintain the domination of Jewish Israelis over Palestinians" under a new government which, the New York based NGO underlines, "includes Itamar Ben-Gvir, who has been convicted by an Israeli court for incitement to racism and support of a terrorist organization."
For Alberto Spectorowsky, an Uruguayan-Israeli citizen and professor of Political Science at Tel Aviv University, the current climate of violence in the country is related to corruption charges against the prime minister.
"There is a conflict unleashed between those who defend a democracy with liberal institutions and those who want to take away the power and independence of the Court of Justice," Spectorowsky told IPS from Tel Aviv over the phone.
The current prime minister was sworn into office immersed in an open process for bribery, fraud and breach of trust. "Without this pending trial, Netanyahu would be another defender of liberal democracy," claims the political scientist.
As for Ben Gvir, Spectorowsky points to "an open scenario":
"Netanyahu has no interest in setting the Middle East on fire, and that is why he tries to contain Ben Gvir. However, the latter announced that he will leave the coalition if they take away his authority," the expert underlines.
In an interview given to Israeli Channel 12, on February 4, the senior minister gave the government a period of three months to implement measures such as the death penalty for terrorists or the creation of a security body made up of armed civilians.
"As long as I continue to have influence, I will not overthrow the government," said Ben Gvir. His most recent measure has been to increase by 400% the number of weapons permits that can be granted monthly.
Sade believes Ben Gvir is seeking to create his own armed militia.
"Now he wants to arm everyone to contain these attacks, which, however, have increased since he took office," he adds. "What could you possibly expect from a country whose National Security minister asked me and others to commit hate crimes?"
Israel has become a trap, he says, "not only for the Palestinians, but also for anyone who thinks differently."