Mediator Discussion: Uncovering the Challenges and Smart Practices of Natural Resources Mediation in Indonesia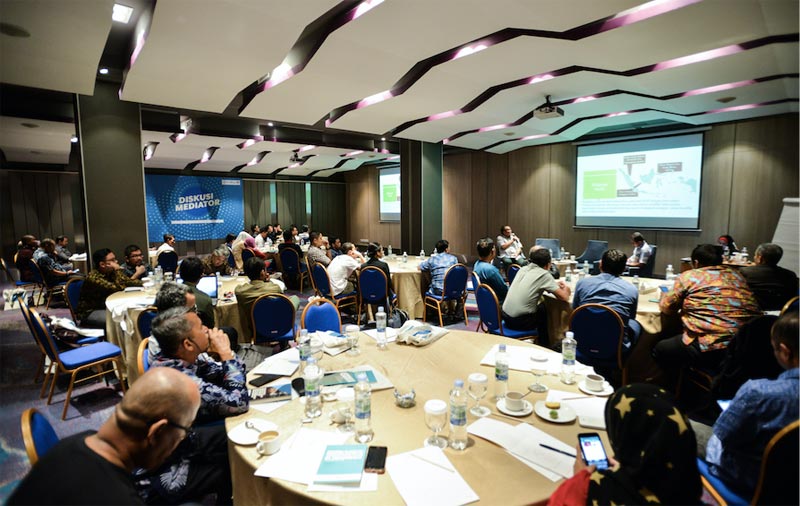 9 July 2018
Still in the atmosphere of Eid al-Fitr, the Conflict Resolution Unit (CRU) invited at least 40 natural resource and land mediators from all over Indonesia to attend the Mediator Discussion event in Jakarta on June 25 and 26 2018. The Mediator Discussion Event is a special meeting event for natural resources and land mediators in Indonesia initiated by the Conflict Resolution Unit (CRU), a dispute resolution unit under the IBCSD which aims to provide services that support natural resource and land mediation efforts in Indonesia.
The meeting was opened by remarks from Budi Santosa, Executive Director of IBCSD who introduced CRU as a unit under the auspices of the Indonesian Business Association for Sustainable Development (IBCSD). "We focus on sustainable issues, one of which is for the CRU, trying an independent platform that can facilitate conflicting parties so they don't go to court," explained Budi in his speech.
The event which took place over two days on 25 – 26 June 2018 was attended by at least 40 participants from all over Indonesia and was also attended by senior mediators who acted as both facilitators and resource persons of this event. Interestingly, all participants came from different backgrounds, ranging from professional mediators, junior mediators, mediators from civil servants to judge mediators.
In addition, the experiences of the participants are quite diverse, although not all participants are certified mediators, but all participants have experiences that intersect with the resolution of natural resource disputes in their respective regions, especially in the oil palm, HTI and mining sectors. These three issues became the starting point for discussion in focus group discussions to find challenges and smart practices in natural resource mediation.
Falatehan Zainy, the person in charge of the Mediator Discussion program and also the CRU program manager, explained that the purpose of this event was to bring together mediators in the regions to discuss and exchange experiences between mediators. "Hopefully we can start building communication to strengthen the network between mediators, especially in regions (outside Java) in terms of mediating natural resource conflicts in their respective regions," he explained.
To warm the atmosphere of discussion, this event also presented several speakers from elements of government, researchers to mediation practitioners to share knowledge and experiences about the development of natural resource and land dispute resolution in Indonesia.
Prof. Indra Bastian from the Indonesian Mediation Center, one of the resource persons, emphasized the importance of mastering the context of natural resources for mediators who will mediate conflicts related to natural resources. He argues that mastering the context of natural resources will help mediators in analyzing conflicts, mapping conflicts, and designing the outcomes of the mediation process.
Meanwhile, Daru Ardianto from PKTHA – KLHK shared his experiences about PKTHA's journey during its three years of establishment to answer challenges in finding solutions for resolving tenure conflicts in Indonesia. "As of June 2018, as many as 138 cases have been completed, 80 cases are in process and 31 other cases are not completed," he said.
Completing the presentation session, Yando Zakaria, senior anthropologist from KARSA shared the results of his latest study on the costs of natural resource and land conflicts from a community perspective. This study is a collaborative study of the collaboration between KARSA and CRU to calculate the magnitude of the impact of natural resource conflicts in monetary value on the community.
Thematic Discussion
Entering the second half of the Mediator Discussion event, the participants started a thematic discussion to answer what are the challenges for mediators and how to practice smart natural resource mediation in Indonesia. To make the discussion room more effective, participants were divided into three major groups, namely oil palm, HTI and mining groups. The division of this group is based on the background and interest of each participant in the issue. A facilitator who has a background in natural resource and land dispute resolution becomes a facilitator as well as a trigger for discussion in each of these groups.
In the discussion, the issue of the imbalance of power and information, intervention by investors, government policies to the need for companions for community groups became one of the challenges in the mediation process to resolve conflicts over natural resources in Indonesia.
Meanwhile, other participants mentioned the need for capacity building to assist the mediator's role. "What we need is capacity building," said Mora, one of the participants from West Sumatra.
This series of interactive discussions ended with an introduction to the Conflict Resolution Unit program aimed at promoting mediation as an effective option for resolving natural resource conflicts in Indonesia by Navitri Putri Guillaume, Director of the CRU program.
"The future goal is an independent institution. And what is being done right now is like incubation. We want to see how to become an independent institution related to the resolution of natural boundary conflicts, and the ability to provide information in conflict areas, especially about mediators who have the right specifications for the conflict at hand," he said.
On this occasion, Navitri also revealed that in an effort to realize its mission, CRU cooperates with other institutions engaged in mediating conflicts over natural resources and land as well as mediators.
A number of participants and resource persons present expressed their appreciation for this meeting. "Appreciation to CRU for initiating this event. Bringing us together, who have never met before but are both struggling in the same field," said Umi, one of the participants from Jambi. Meanwhile, Yani, one of the participants from Garut, West Java, left a message about the sustainability of this activity. "CRU must also think about the sustainability of this activity, as well as material for capacity building, especially for friends who are present here," he said closing the Mediator Discussion event.
---
Photo caption: A number of natural resource mediators from all over Indonesia gathered for a two-day discussion event, Mediator Discussion held by the Conflict Resolution Unit (CRU) on 26 – 27 June 2018 in Jakarta.