Mediator Training with PKTHA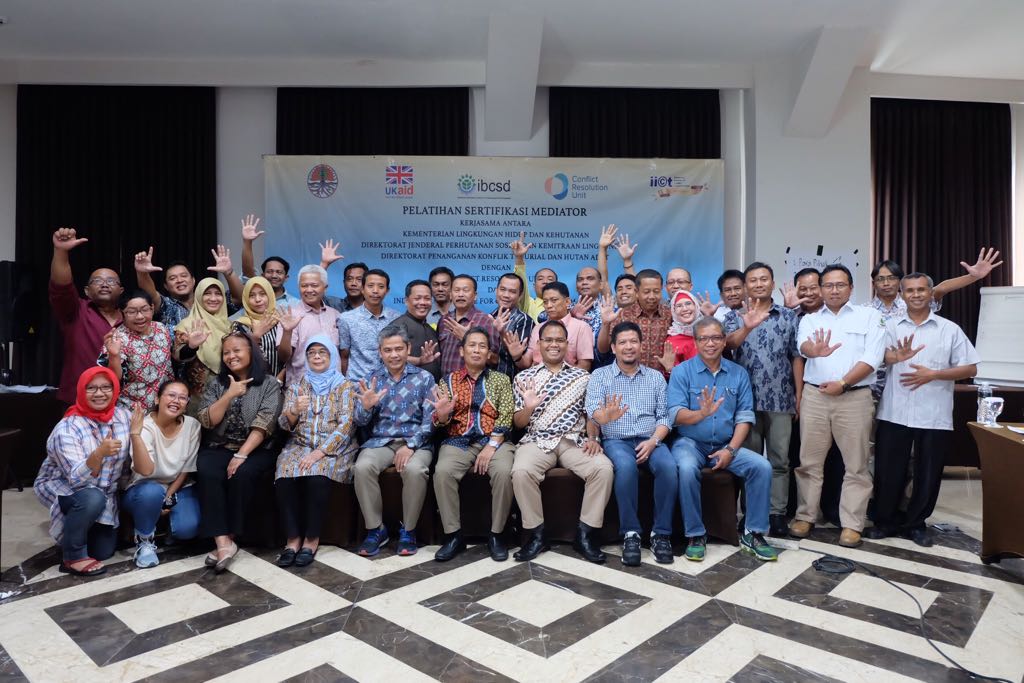 10 September 2018
Conflict if managed properly can create space for public participation, improving the situation. Mediators at the site level will play an important role in ensuring the transformation of the relationship between the parties. This was conveyed by Muhamad Said, Director of Tenure Conflict Management and Customary Forests (PKTHA) at the opening ceremony of the Mediator Training on Sunday, September 2, 2018 in Bogor, West Java.
PKTHA held a mediator training event as part of efforts to increase the capacity of human resources and institutions, especially at the site level, namely the Forest Management Unit (KPH) level. This training event was attended by 27 participants, most of whom are KPH employees throughout Indonesia. On this occasion, PKTHA collaborated with CRU as an implementing partner and IICT as an instructor and implementer of the mediator certification exam.
In his brief presentation, Muhamad Said revealed that the availability of a mediator who is reliable and understands the region is one of the challenges in efforts to resolve conflicts over natural resources and land in Indonesia. "The number of cases reported to PKTHA continues to grow until it reaches 287 cases in August 2018 and all of this needs to be handled," explained Muhamad Said. The continuation of most of the reported cases have been completed but the reporting of new cases continues to emerge and old cases that have been completed have the potential to reappear. "Mediators are at the forefront with other conflict resolution practitioners to prevent and resolve conflicts that have arisen," he said.
FMUs as forest managers at the site level play the key to achieving efficient and sustainable management, including managing the potential and conflicts that occur in the area. However, to fulfill their duties and carry out their functions, FMU members need briefing. On this basis, this training was initiated.
The Conflict Resolution Unit (CRU) supports this serious effort by sending 6 representatives of CRU partners to attend this mediator training. The Director of the CRU Program, Navitri Putri Guillaume was also present at the opening ceremony and escorted the six representatives of these partners to further participate in joint training. The six representatives came from Padang, Jambi, Lombok, Berau and Ambon. For 6 days, from September 3 to September 8, they together with KPH representatives appointed by PKTHA will attend training events and undergo a certification exam at the end of the activity.