Effective Negotiations in the Mediation Process of Land and Natural Resource Conflicts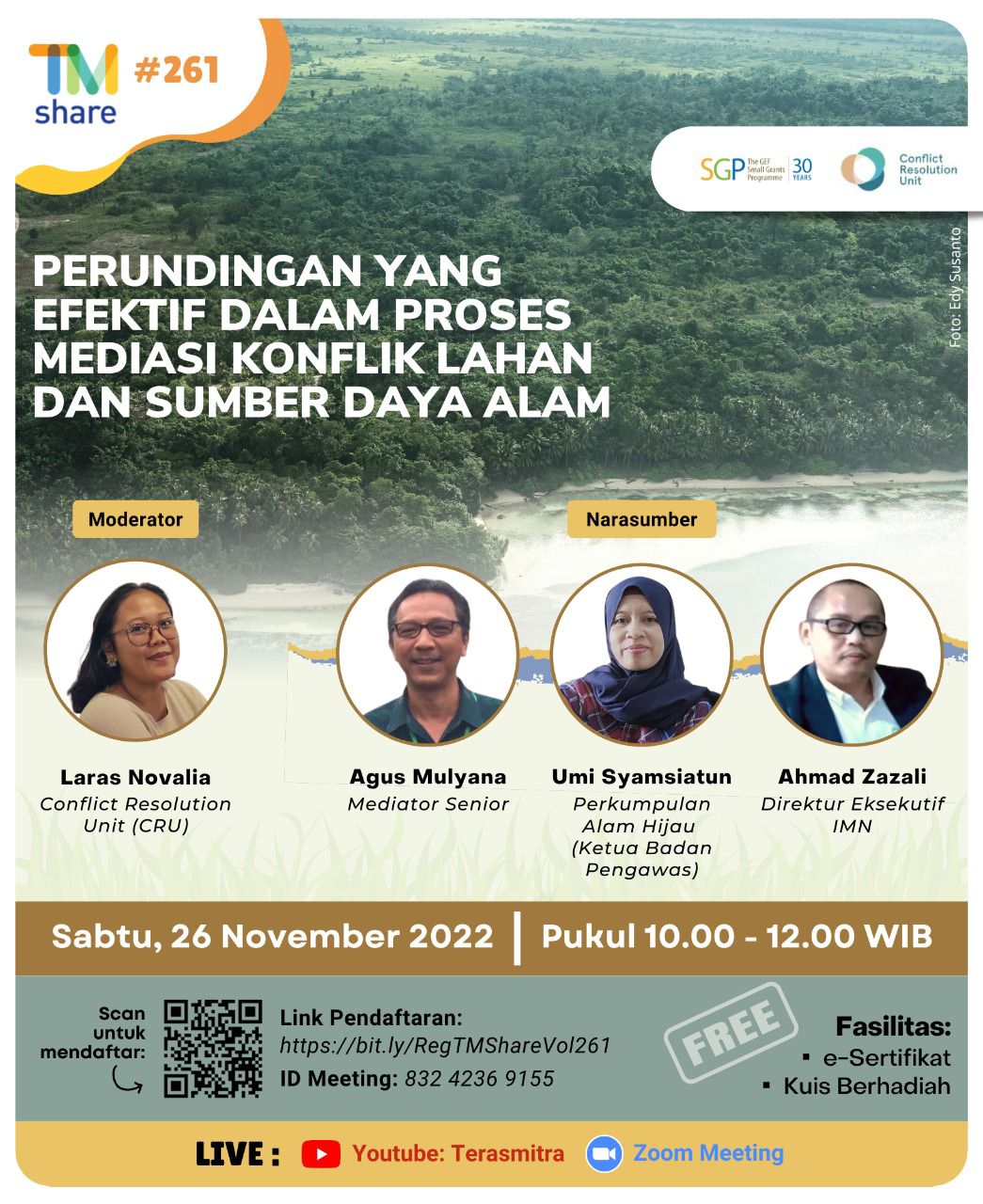 24 November 2022
Conflict over land and natural resources is an important problem faced in Indonesia. The cause of the emergence of conflicts in the management of natural resources is the wealth of natural resources and the increasingly limited carrying capacity of the environment. In addition, it is also caused by inequality in people's lives.
Until now, efforts to resolve land and natural resource conflicts have been carried out through dialogue and mediation approaches. This approach is rooted in the Indonesian nation's cultural traditions and customary law known as deliberation for consensus, hence dialogue and mediation mechanisms in conflict resolution can be the best choice in resolving conflicts in natural resource sector.
However, is this approach effective in resolving land and natural resource conflicts that occur in the community?
Join us in the TM Share Volume 262 discussion, a special collaboration with the Conflict Resolution Unit (CRU) in theme "Effective Negotiations in the Mediation Process of Land and Natural Resource Conflicts" with resource persons:
Agus Mulyana – Senior Mediator
Umi Syamsiatun- Perkumpulan Alam Hijau (Chairman of the Supervisory Board)
Ahmad Zazali – Executive Director of IMN
Moderators:
Laras Novalia – Conflict Resolution Unit (CRU)
Saturday, November 26, 2022
10.00 – 12.00 WIB
FREE
Register HERE.
Zoom Meeting ID: 832 4236 9155
Live Via:
Zoom Meetings  (ID Meeting: 832 4236 9155)
YouTube Terasmitra
Facility:
FREE