Techniques of Facilitating Negotiations in the Mediation Process for Handling Land and Natural Resource Conflicts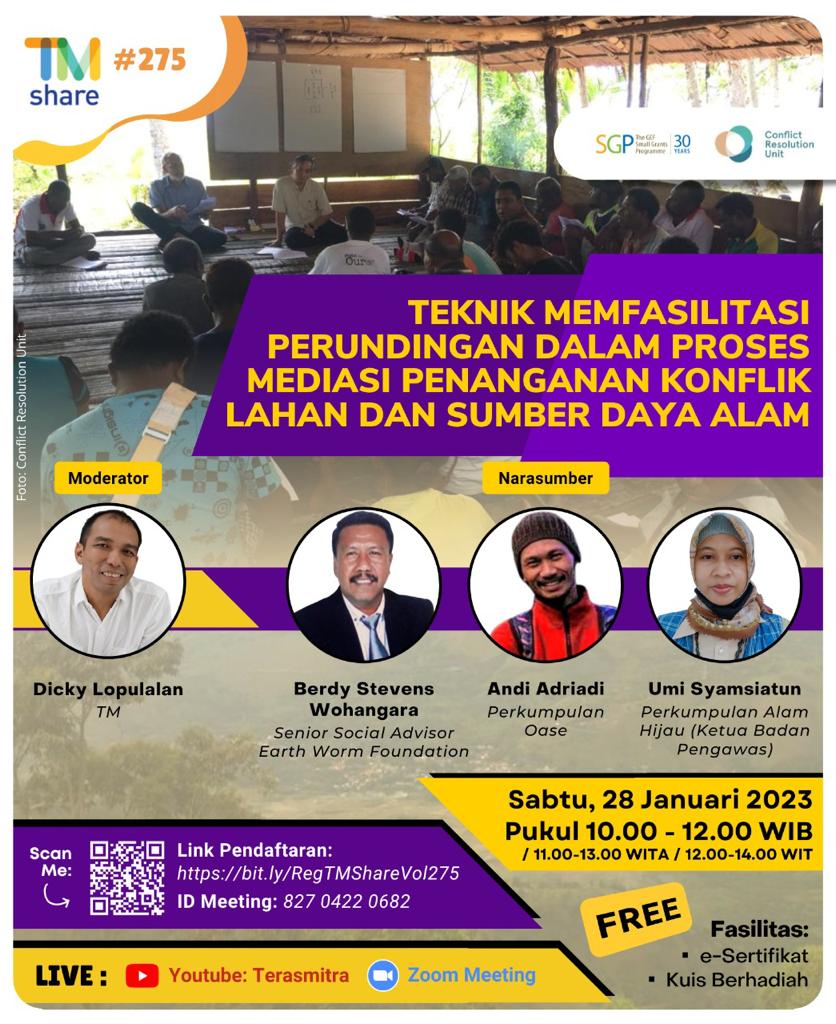 27 January 2023
Land and natural resource conflicts that occur in Indonesia cause material and immaterial losses. Conflicts that arise are generally due to overlapping control and utilization of natural resources.
One alternative to land conflict resolution is through mediation. In the mediation process, the mediators serve as third parties facilitating the negotiation process between conflicting parties.
What are the techniques and approaches used by the mediators in negotiating conflicts over land and natural resources?
Come on, join the discussion on TM Share Volume 275, a special collaboration with CRU on the theme "Techniques of Facilitating Negotiations in the Mediation Process for Handling Land and Natural Resource Conflicts" with resource persons:
▪ Berdy Stevens Wohangara – Senior Social Advisor of Earth Worm Foundation
▪ Andi Adriadi – Oase Association
▪ Umi Syamsiatun – Green Nature Association (Chairman of the Supervisory Board)
Moderators:
▪ Dicky Lopulalan – TM
Saturday, January 28, 2023
10.00-12.00 WIT/11.00-13.00 WITA/12.00-14.00 WIT
Register here. : https://bit.ly/RegTMShareVol275
ZOOM Meeting ID: 897 4006 4231
Facility:
▪ e-Certificate
▪ Prize Quiz